---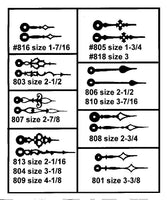 One set of free hands with each clock unit that offers free hands.
Hour / Minute & Sweep
Size listed is the length of the long hand.
Please choose your free hands from this chart.
The hands are shown as matched Hour/Minute hands.
So if you ordered 1 clock you can order 1 set of hands (such as 1 # 808).
Hands ordered in excess of the quantity of clock units ordered will not ship.
Hands are for standard mini-quartz, pendulum and chiming units.
Insert clock units are pre-supplied with hands as shown.
High torque motors must order separate hands.
High torque motors do not come with free hands.
Helpful Hint: 8 x 8 dial use #804
Helpful Hint: 8 x 10 dial use #804
Helpful Hint: 10 x 10 dial use #809
Helpful Hint: 10 x 13 dial use #809
Helpful Hint: 5-3/4 bezel use #808
Helpful Hint: 8 bezel use 801 or 804